Vic-Maui Welcomes Red Sheilla
by Event Committee, May 8th, 2021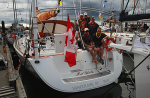 Red Sheilla is the first boat to enter the 2022 Vic-Maui!
Red Sheilla previously competed in the 2010, 2012 and 2016 Vic-Maui races. In July 2022, Red Sheilla skipper Jim Innes will sail in his fifth Vic-Maui, following the pioneering course sailed by his father JG (Jim) Innes in 1965.
The first Vic-Maui was sailed in 1965. The race was a dream of Royal Vancouver Yacht Club member JG (Jim) Innes who, at that time, was a Captain for Canadian Pacific Airlines. Jim convinced three other skippers to start with him off Brotchie Ledge in 1965. With Jim in his Lapworth 36' "Long gone", there was Lol Killam of the Royal Vancouver Yacht Club with the 45' sloop "Velaris", Ron Ramsay of the Royal Victoria Yacht Club with the 45' ketch "Norena of Wight" and Boo Paskel from Seattle Yacht Club with his 73' ketch "Tatoosh". The 1965 race and weather were typical; Westerlies in the Juan de Fuca Strait, a left turn down the coast to about the latitude of San Francisco, followed by a right turn under the North Pacific High and a gybe with the Northeast trade winds filling spinnakers for the sunny run to Maui. "Long Gone" won the first Vic-Maui with a time of 15 days, 6 hours and 55 minutes. Records have been broken many times since 1965.
The current record holder is "Valkyrie", skippered by Gavin Brackett of the Royal Vancouver Yacht Club, who completed the race in 8 days, 9 hours and 17 minutes in 2016.
Follow Red Sheilla on Facebook (including her blog posts) at: http://www.facebook.com/redsheillasailing.
This fall, Red Sheilla will be entered in Cascadian Convoy, Round The County followed by 2022 Southern Straits, PNW Offshore and Swiftsure.
In 2022 Vic-Maui will be marking the next 50 years of Vic-Maui. We invite you to join us!