Vic-Maui Welcomes Xiomara
by Event Committee , March 20th, 2021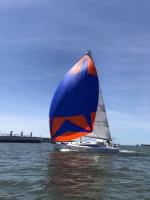 Aidan and partner Elaine Dumoulin will be co-skipper Xiomara on her first Vic-Maui. Shannon Rae skipper of 2018 entry Gemini's Dream will be joining us and the rest of the crew is yet to be confirmed.
Elaine was on Gemini's dream in 2018 with Shannon as skipper.
The goal this time is to bring Shannon to Maui!
Xiomara stands for ready for battle or the Brightest star in the universe.
We are keen on bringing a crew together that will be training throughout 2021 and looking forward to any race opportunities available in COVID time.
We are Super excited!
Congratulations Xiomara.