Day 9 - Stuck on Starboard
by Race Committee, July 9th, 2018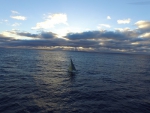 The trade wind run under spinnaker to Hawaii beckons, but more changeable winds are still in the way of the Vic-Maui fleet. The boats are stuck in a form of purgatory close reaching in wind speeds are fluctuating from non-existent to 12 kts – not exactly prime conditions for an ocean race. And the boats are soooo tired of seeing the white sails hoisted on a perpetual starboard tack and are getting frustrated by the time it is taking to make southing to the trade wind latitudes. And they are getting nervous as everyone has now figured out that the boat that finds the right path to the trades will likely win the race.
And they are now clearly in the North Pacific Gyre (aka the Garbage Patch) with Joy Ride quite surprised by the amount of plastic garbage floating by. With Salient also report seeing lots of whales, you have to wonder how our leviathan friends are faring in a sea of fish nets, plastic cups and other urban detritus.
At Roll Call Firefly is 901 miles to the finish. Joy Ride +22, Salient +84, Turnagain +115, Kraken +137, Anjo +190, Oxomoxo + 224, Serenite +278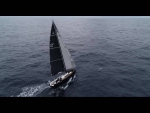 In Racing 1 Firefly has increased its lead over Joy Ride by 5 miles over yesterday's report. But the last 24 hours has been a game of snakes and ladders as one boat, then the other, loses wind pressure and finds it again. This will likely be a dog-fight right to the finish.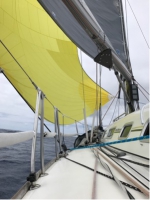 In Racing 2, Breaking News ..... at 1515 HST Salient just raised their reaching kite - a change is as good as a rest. But at Roll Call Salient had also increased its lead by over Turnagain by 18 miles and by 14 miles over Kraken since yesterday. But all boats have lost distance over Anjo who is coming up from behind. But this has also been a game of snakes and ladders and as the first 4 boats have very similar time allowances, the battle for first to Hawaii is also a battle for first place, corrected time. And don't forget Oxomoxo who the other boats owe roughly 17 hours on corrections. Serenite, in a battle to keep up with the Racing 2 boats, lost a little distance overnight and has dived east to try something different.
The crew on Gemini's Dream, still disappointed that boat issues have stopped their adventure to Hawaii are making good progress and now about 350 miles from home motor-sailing under jib and trysail.
TODAY'S FEATURED SPONSOR
Mustang Survival
For 50 years Mustang Survival has been engineering high-performance marine gear for military, coast guard, and rescue personnel. With a focus on applied research and field-testing, we're committed to the protection and enhancement of those who push themselves to extremes. We build gear that saves lives and fuels exploration.
Website: https://www.mustangsurvival.com/