The Weather Eye, July 8 – To Half Way and Beyond, or "What the Heck is a Perpendicular Bisector?"
by David Sutcliffe, July 8th, 2018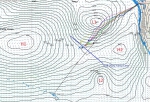 Sooner or later, each Vic-Maui boat crosses the Vic-Maui perpendicular bisector, an imaginary line or plane on which all positions are equally distant from the start and the finish. For a boat on the rhumbline, half way is when the boat is 1,154 nautical miles from both the start and the finish.
Enough dry geometry … what we are really trying to say is that Firefly and Joy Ride are both past their respective half-way points, while Salient, Turnagain, and Kraken should be across theirs shortly. Anjo, OxoMoxo, and Serenite may have to wait until tomorrow to celebrate.
As you will see in the first image below, to get clear of Low 1 (L1) and connect to High 1 (H1), the boats are sailing close hauled or close reaching, at a time when they might have expected to have their spinnakers up already. Low 2 (L2) is the remnant of "the Tropical Storm formerly known as Fabio".
Sunday July 8 at 1700 PDT
The challenge now, Sunday night through Tuesday, is sailing around or across the ridge or plateau that currently connects High 1 (H1) to the West with High 2 (H2) to the East. Westward boats, Salient for example, look to be on a good line while Eastward boats, OxoMoxo, look to be risking a stop for mid-ocean swimming. Or are they? High 1 is on the move, drifting East over the fleet. Who will choose the best line? Time will tell!
An idea of what things might look like in about 48 hours, on Tuesday at 1700 PDT, is shown in the image below. The possible tracks for three boats, Salient, Turnagain, and Serenite, are shown for illustrative purposes. Notice that H1 has reabsorbed H2 to form a single dominant H, or "North Pacific High", while L1 has migrated North for the summer and L2 (now marked " * ") has dissipated into a residual disturbance in the (trade winds) force. Even without Jedi, boats may sense this disturbance as they progress towards Maui.
Tuesday July 10 at 1700 PDT (showing possible tracks for Salient, Turnagain, and Serenite)
The first wave of Pacific Cup Race boats will start from San Francisco on Monday July 9, and they should be able to sail a less complex route in the emerging, more typical summer weather pattern that has, until now, eluded the Vic-Maui fleet.
Meanwhile, by Tuesday July 10 the Vic-Maui fleet should be picking laylines and gybing for the final dash towards Maui. That will leave them with the final one third of the race course to sail. More on that later.
One eye on the weather!
Caveat: this article and images are presented for informational purposes – they are not predictions of or advice to any boat regarding weather or routing!
Featured Sponsor:
Survitec Group Vancouver - DBC Marine Safety Systems Ltd. is now owned by the Survitec Group. The company manufactures highly engineered and quality marine Lifesaving equipment, Survival Clothes and equipment, and Fire Safety Systems for both Marine and Commercial applications.
DBC was incorporated in 1977 and is one of the largest and most experienced marine lifesaving equipment manufacturers. Since its inception, DBC has developed and continues to manufacture a comprehensive range of yachting and commercially approved liferafts, platforms and passenger evacuation systems.
Ph: +1-604-278-3221
Website: https://www.dbcmarine.com/