Day 8 - Half Way to Maui
by Race Committee, July 8th, 2018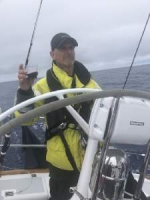 Most of the fleet reached the half-way point in last 24 hours, or will shortly. As the picture of Firefly's Bob Strong shows, it is certainly a time for celebrations aboard (and perhaps the first shower in a week). But it is also time to contemplate how far the boats are from anything - nearest land is over 1000 miles away. But from now on, the nearest land will be Hawaii – how good is that?
The weather seems to have improved and with boats now at the latitude of Carmel, it is certainly warmer and most boats report that the foulies are finally starting to come off. There are some complaints about the lack of spinnaker sailing (as promised in the brochure) with boats reporting they are close reaching with Code 0 sails in 10-15 kts of wind. And they could use more wind.
In the Line Honours race (first boat to get to Maui) Firefly leads the fleet with about 1048 miles to go, Joy Ride staying a consistent 27 miles behind, followed by Salient (+98), Turnagain (+111), Kraken (+134), Anjo (+208), Oxomoxo (+217), and Serenite (+253).
In terms of corrected time, the 28-mile lead Firefly is enjoying over Joy Ride at the moment is not that much when potential boat speeds and handicaps are considered. It is still very much a dead heat and both boats know it.
In Racing 2 Salient has managed to build a small lead over Turnagain and Kraken. Perhaps Turnagain is spending too much time fishing (crew member Vern Burkhardt is an inveterate fisherman and crews have been known to tie him into his bunk to keep him away from the fishing rods) and perhaps Kraken is falling too much in love with their drone photos. Oxomoxo is still working hard and hanging in the mix based on time corrections and Anjo has made significant in-roads on the gap and opened up a gap over Serenite. But Serenite is reporting better winds than the boats ahead and may turn that around.
The trade winds and the promised spinnaker run to Hawaii are out there, but there is still a zone of changeable winds ahead that needs to be navigated. This race to Maui will be determined by who gets to those trade winds and hoist the spinnaker first.
Gemini's Dream are making good progress towards home having rigged the trysail to replace the damaged main and have even had time for fishing themselves. They are about 400 miles from Juan de Fuca and working with Race Committee to find the best path home based on their reduced sail plan, available fuel, and weather forecasts.
TODAY'S FEATURED SPONSOR
North Sails
Sails • Sail Care
604-271-2111
The World Leader in Sailmaking: North Sails has become the world leader in sailmaking through an ongoing commitment to making sails that are faster, lighter and longer lasting than any other sails in the world. Whether you race or cruise, North Sails is committed to designing and building sails that are just right for you! When performance counts, the choice is clear.