Day 6 - Window of Opportunity
by Race Committee, July 6th, 2018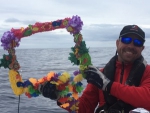 Day 6 Roll Call finds the fleet well offshore and now about 750 miles off Cape Mendocino and still sailing west of the direct route to Maui. As the photo shows, there is a window of opportunity to get the course to Maui right. But this morning's Weather Eye lays out the myriad of issues facing the fleet as all boats look to pick the right weather route, with choosing the wrong window likely to be costly.
In the Line Honours race (first boat to get to Maui) Firefly leads the fleet with about 1450 miles to go, Joy Ride is 28 miles behind, followed by Turnagain (+75), Sailent (+82), Kraken (+90), Oxomoxo (+154) and Anjo (+189).
Boats are reporting sailing in lighter conditions that yesterday. That is a good thing on Firefly who reported that yesterday they went from a missing gooseneck pin to a broken carbon fibre spin pole to a blown out jib top in quick succession. But the Tuna Challenge issued yesterday by Oxomoxo was answered on Joy Ride within minutes of putting out the lure – no word on how bloody the decks got. Also reporting tuna on board are Turnagain and Kraken again. And to show they are not left out of the damage from pushing too hard, Serenite reports a crack on their oven door from overuse delivering good food.
In terms of corrected time, the 28-mile lead held by Firefly is not that much when potential boat speeds and handicaps are considered and the most recent ETA puts Joy Ride only 30 minutes behind. With more than half the race left, it is still a dead heat.
Look Out, Kraken is Coming Through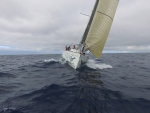 In Racing 2, the conditions allowed Kraken to launch their drone again with spectacular footage. Too bad none of their competitors are nearby to share in the media spotlight. While Turnagain is slightly closer to Maui, Turnagain, Salient and Kraken are all very close. And Oxomoxo is still hanging in based on time corrections. It all depends on who gets the wind at what time.
In Crusing Class Serenite is now in full race mode and trying to catch Anjo who is only 18 miles ahead, while Gemini's Dream is still in the heavier winds playing a bit of catch-up.
TODAY'S FEATURED SPONSOR
Signature Yachts
You're Welcome Aboard at Signature Yachts
When you're in the market to buy or sell a sailing yacht in the Pacific Northwest, we would appreciate the opportunity to serve you. Although we've sold nearly a thousand boats so far, what's far more important is the quality of the buying or selling experience you have as our customer.

Our multiple Beneteau Platinum and Island Packet Yachts Golden Wrench Awards will lend you confidence that your purchase, delivery and after sales service experience with us will be a great one! We've enjoyed receiving awards from leading yacht builders in the world recognizing us for superior customer service and these awards are a direct result of customer feedback about your buying experience.
Website: http://www.signature-yachts.com/