The Weather Eye, July 4 – One, Two, Three Big Things to Think About
by David Sutcliffe, July 4th, 2018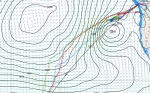 July 4, 2018 - Happy Independence Day
This is not a textbook year! The weather situation for this Vic-Maui is developing into a true ocean racer's challenge, where seemingly small decisions and a few miles one way or the other early in the race could make for big gains and losses. That doesn't mean it's all on the navigators, who do have their work seriously cut out for them, as it's also on the whole team who will have to sail the boat very well and work hard with sail changes, trim and transitions to get ahead or stay ahead.
One)
Wednesday & Thursday, the near term weather is all about getting past the Low which is currently (0900 PDT) centered about 42N 133W.
All of the boats appear to be going over the Low, varying distances West of the rhumb line.
There is a squeeze zone with strong winds, possibly to gale force, predicted. Careful!
Leaders Firefly and Joy Ride appear to be splitting this morning, with Firefly making a move further West and Joy Ride staying the course. With over twenty miles of lateral separation, and the passage of the Low to be threaded, the risk/reward is likely to be significant for both boats. If one does a better job of passing the Low, they could stretch that into a very significant lead for the next stage of the race.
Turnagain has made big gains overnight and is closing in on Joy Ride, while Salient and Kraken (chasing Firefly) have opened up a lead on Anjo who has sailed more miles. OxoMoxo is angling out towards the others.
The Low may drift North, back across the fleet's track, potentially catching the tail-runners Serenite and Geminis Dream in lighter, variable winds. Sailing fast, now, is especially important for these boats.
July 4, 0900 PDT
Two)
Thursday & Friday, after navigating the Low, the teams will move on to sailing around the High and setting up for crossing the ridge which typically extends to the SE from the center of the High. The models show a significant "plateau" developing on that ridge, and winds would typically be much lighter in such a feature. Once again, teams will have to evaluate the risk/return on miles sailed vs. wind speed/angle, and decide where to go to avoid the plateau and to stay in good breeze. Having parked on a similar plateau (making just 65 miles in 24 hours) in 2006, and had boats pass us on both sides (ouch!), I am going to watch this potential trap with great interest.
Three)
By Saturday, the fleet should still be sailing around the High which should be centered about 40N 165W. It is predicted to continue to be strong at about 1036mb. One strategy could be to sail an isobar contour line around the high, say at about 1026-1028mb, to stay away from the center, sail in good pressure, and be closer to the rhumb line. All the while not getting stuck on any "flat" spots. Lead boats should be looking ahead to curve around the bottom right hand shoulder of the high and set up for calling the port gybe lay line to Maui. Calling a layline from 800-1000nm out!
Beyond the above One-Two-Three, the trade winds ahead are looking good. Champagne sailing ahead! Off to the Southeast, there is some tropical system activity to keep an eye on, with TS Emilia reportedly dissipated and TS/Hurricane Fabio forecast to peak and then dissipate without significantly affecting the Vic-Maui fleet's probable track to Hawaii. One eye to weather!
Going out on the proverbial limb, I'd say the first finishers could arrive in Maui on July 12 or 13. Or not. Time will tell.
Caveat: this article and images are presented for informational purposes – they are not predictions of or advice to any boat regarding weather or routing!
Featured Sponsor:
Professional riggers to racing and cruising yachts.
Boat parts & Marine services
Masts, Pulleys, Blocks, Winches, Rope, Wires
Lynnwood Marina
1629 Columbia Street
North Vancouver, BC
Email: sales@pro-tech.bc.ca
Phone: +1 604 988 3052
Website: https://www.facebook.com/ProTechYachts/