One Design Racing
by Race Committee, July 25th, 2016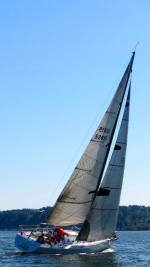 There are many Vic-Maui sub-plots in a larger story. There was the race for the elapsed time record between the TP-52s, Old School vs. New School, and Tropical Storm Darby. Another story out of many is the One Design race between three almost identical Beneteau First 40.7s. While they have slight differences in ORC ratings for this race, in the minds of the skippers and crew they are racing each other boat for boat. At stake are big bragging rights.
The winner of this race was clearly Kraken. The Malaceks sailed an almost direct line to Maui wasting only 52 miles on the way, beating Darby into Lahaina and her rivals by almost 2 days.
With supremacy established, Bob Hennessy's Starblazer and Brad Marchant's Salient had a restart after dodging Darby and waiting for it to pass and a 300 mile sprint to the finish. Starblazer had a small amount of distance leverage and put the pedal to the metal to get in front of Salient and stay there.
But the clear winner was Beneteau. One third of the 2016 fleet are Beneteau yachts. The percentage rises to half when the sister-brand Jeanneaus are included. Not everyone likes Brie cheese, but clearly lots of people like the boats the French are building
TODAY'S FEATURED SPONSOR
.
For 40 years, Pacific Yachting has been the voice of boating in British Columbia. Good luck to all Vic-Maui participants!
Website: http://www.pacificyachting.com/