Crossfire is Almost Home
by Crossfire Crew, July 17th, 2016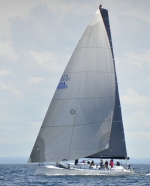 First of all thank you to all who have sent the notes of encouragement, greatly appreciated. An especially big thank you to all who offered to buy the first, second and third rounds of drinks regardless of the time.
The only problem would be that there is probably no one who would serve us because of what we look like and worse, what we smell like. That however all took a turn for the better today as the wind backed off from the 20-30 knots we had to around 10-15 knots at dawn. We then decided to try and figure out a jury rig that would allow us to sail within motoring range of Neah Bay. Right now we are about 104 miles from NB and after working the fuel problem with Nigel we decided that we could start powering once we got within 85 miles of NB.
After the wind backed off to 5-10 and we were absolutely sure we wouldn't be putting the rig in danger we rigged the genoa staysail on an intermediate inner forestay we jury rigged. Once we got that sail up our speed went up to over 7.5 knots and we shut the engine off. As the wind and subsequently our boatspeed dropped, we decided to fly the storm trysail rigged as we normally would on the main mast. Looks pretty strange but in 5 knots of wind we are reaching at about 4.5 knots. The mast stayed rock solid throughout.
All of this made the boat go crazy as the rain quit, the motion on the boat got much more livable, and appetites came right up to the point that Greggy decided to open Mom's Breakfast Buffet, apologies to Mom. It was a total hit. That was followed by an OCD cleaning frenzy that swept the boat and I went off watch to a complete pig sty and awoke to a clean, sweet smelling sailing yacht, amazing.
The boys are now gathered in the cockpit having shall we say, a wide ranging discussion. Not exactly intellectual but after the last three days, the sounds of laughter and frivolity are most welcome.
The next problem to solve is how to get some rum and orange juice in Neah Bay, a "dry" town. Not sure we'll get that one done. After we start powering again I'll give you an ETA to Neah Bay.
Thanks again for all for all your thoughts and best wishes.
Crossfire
TODAY'S FEATURED SPONSOR
Harken, Inc. is a leading manufacturer and marketer of quality sailboat hardware and accessories. Website: http://www.harken.ca/