Insight into Crossfire's Retirement Decision
by Kurt Hoehne, July 16th, 2016
The Vic-Maui Race record may well fall, but it won't be Crossfire that gets it. Lou Bianco's Reichel-Pugh 55 pulled out of the race a few hours ago after a series of incidents yesterday dictated the boat be pointed back home to Seattle. Here are the details from navigator Bruce Hedrick:
"We decided to withdraw after a litany of problems just all added up. Among the first problems were losing the wind instruments and Windex due to violent motion at the masthead."
"At dawn yesterday the wind had built to 20-22 knots and boat speed was steady in the upper teens to mid 20's. The boat was flying and completely in control. Being the prudent sailors we are we decided to change down to the A4. All went well until about noon when we blew that kite up doing 28.4 knots. We took it down and changed to the A5. Conditions worsened after we blew the A4. With the A5 we were trucking.
"Then the halyard on the A5 parted right where it came out of the spar, just above the deck block. HUH? The A5 dropped of course and was then shredded. Pulled the wreckage out of the water and got ready to go to the J2 and a staysail. Then we figured out that the halyard hadn't chafed, it just failed. We found out we were sailing on all halyards that had come with the boat. With more failures imminent and no heavy kites to use on the approach to Hawaii we decided it was time to do the safe thing and we retired. Seattle was closer, so we're headed home.
"This is a huge bummer. Crossfire is a rocket and the crew was really into the program. I set the top speed of 31.1 knots. Scott Anderson was #2 at 30.0 knots Lou Bianco was #3 at 28.8 knots. We're on the wind now with just the J5 up trying to get closer to the high and less wind which should happen this afternoon. We'll power north, get into the northwesterlies and sail back to Seattle."
TODAY'S FEATURED SPONSOR: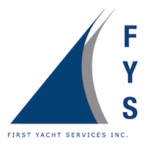 First Yacht Services provides specialty marine services, yacht commissioning, Webasto Marine heating systems, Raymarine electronics and electrical upgradeS for British Columbia and the Pacific Northwest.