Wednesday Morning
by Race Committee, July 13th, 2016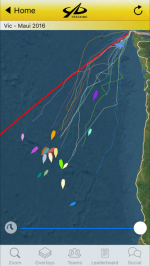 As the arm-chair sailors wake up on Wednesday morning, it has been an interesting night for the Vic-Maui fleet. As forecast, the Pacific High is re-establishing itself and moving eastward toward the Oregon Coast. Its impact on the fleet depends on where boats positioned themselves. But it is starting to look like a traditional Vic-Maui, but more interesting things are still to come.
The boats closer to land have been doing well, blast reaching in good wind with good boat speed. Expresso has used the left side leverage to good advantage and is now past the California border in rough company with Mountain (I know her tracker is not working again), Canard, Rain Drop and Ion.
The Beneteaus who earlier stayed on the Rhumb line to shorten the distance are suffering a bit trying to work back toward the coast and join in the better winds enjoyed by the smaller boats. The high-performance 'hounds' who started yesterday are trapped on the top of the high in light winds. They are just 30 miles south of Cape Flattery which they rounded before dark last night - it is not quite the pursuit they were planning.
There is better wind ahead, but on only certain path lines - we will see who can take the best advantage.
And what impact will the tropical storms have on the northeast trades that blow further south and provide the steady spinnaker run across to Hawaii that the race is famous for.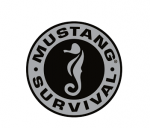 Today's Featured Sponsor: For 50 years Mustang Survival has been engineering high-performance marine gear for military, coast guard, and rescue personnel.