Unleash the Hounds
by Race Committee, July 12th, 2016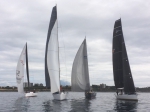 The 4th day of Vic Maui saw several stories unfold. At the start line, the large fast greyhounds were unleashed to catch the fleet. Lighter conditions around Cape Flattery saw the new-school Longboard leg out on old-school Atalanta, The second start boats edged back away from the Rhumb-line as the wind forecast started looking sketchy, and the first start boats keep running south along the Oregon coast.
While the start have very little wind, the big boats make their own and managed to get away surprisingly quickly. And even though they were just ghosting toward the start, Crossfire, then Kinetic shut the door on Valkyrie at the Committee Boat forcing former Olympian Jason Rhodes to gybe around and start 1 minute later in dirty air. Over a 2400 mile race the maneuver will not matter, but it was a stark reminder of the competitive spirit of all competitors. At Roll Call, all were in close quarters approaching Callam Bay and should clear Cape Flattery by dark.
With her tracker now working, Mountain has been maintaining her position as the furthest south boat and is now off Coos Bay, OR followed closely by Expresso. Both are staying close to the coast to avoid a growing high pressure zone to the west with Expresso well inshore and only 70 miles off the coastline. They hope the extra distance will be justified by maintaining stronger winds. The larger boats behind are now edging back to the coast and away from the growing High. The question is - will they maintain the reasonable westerly 10-15 kt wind that was propelling them forward, or will the High swallow them up?
And boats are starting to report big tuna on the fishing lines when the wind is light enough to fish. Turnagain landed a 33 lb monster and Miles has a nice 15 lb'er that disappeared into the frying pan with blackened spice and chipotle aoile.
Today's Featured Sponsor is Pacific Yachting - the voice of B.C. boating for 40 years.