Talking to the Fleet
by Race Committee, July 12th, 2016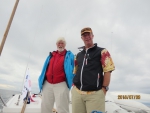 A number of Twitter followers have pointed out that the YB Tracker onboard Mountain has stopped working. In fact it has not – there is something blocking the GPS signal. The Race Committee has given instructions to Mountain to correct it. But Reed Bernard and Brian Vanderzanden are sailing 2-handed and answering email is not top of their priority list. But they will get the message later today at a minimum.
Which all begs the Question – How do we stay in Contact with the fleet?
The primary contact is through the Daily Roll Call which is done by email. All boats have the capability of sending and receiving email. Some are using a devices such as Iridium Go or in Reach – which are satellite based WiFi devices. Other boats use their Single Side Band radio to transmit data from their computer. Regardless the bandwidth is quite small so messages are short. Every day at 1200 Hawaiian time (3 pm Pacific for the time zone challenged) all boats send the Race Committee and position and weather report and any information they want to send to the RC. The RC then collates the information and sends a summary back to the fleet along with any details the RC wants to communicate to the fleet.
In case of urgent traffic, there is 2 way communications via satellite telephone. But as crews are always busy and boats are noisy, there is not always someone at the end of the line. RC can also use relay communication – this involves RC calling one boat who can then raise another boat via VHF radio. But this is limited to a range of 25 miles or so. So sometimes communication between RC and a boat can take a while.
For real emergencies, boats can use their VHF radio to signal to nearby boats. And all boats carry Emergency Position Indicating Radio Beacons – EPIRBs. These are satellite devices that alert the Coast Guard of distress and result in the dispatch of Search and Rescue resources. Let's hope we never have to see these used.
Which brings us back to the YB tracker and Mountain. When the tracker first stopped working early on July 11, the RC was able to have a voice conversation with Mountain via Satphone to confirm all was well. The tracker worked for 7 hrs and stopped again. YB Tracking, the device provider, has analyzed the problem from their offices in England and instructions have been provided to Mountain via email. When they get the message, hopefully the tracker will resume working and everyone can relax and follow Mountain's progress.