A Tale of Two Past Winners
by Peter Salusbury, July 11th, 2016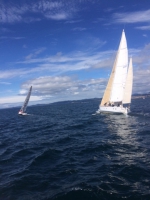 The 2016 Vic Maui Race fleet features the largest and most diverse fleet of boats seen in decades in the running of this famous offshore yacht race. As a result of this diversity, there are some interesting storylines that promise to be captivating within the larger race being held this summer. One such story line hit the start line today.
This particular story is the match race to Hawaii between two former overall race winners, which share virtually identical handicap ratings but, beyond that one similarity starkly contrast each other in every other conceivable measure. The two boats are Atalanta and Longboard and consider the striking differences between these two competitors:
Longboard was built in 2014, is 35 ft long and weighs just 6000 lbs with a carbon composite construction. Atalanta was built 49 years ago out of aluminum and is a 74 ft, 118,000 lb behemoth. Longboard is the defending champion from 2014. Atalanta won race in 1994.
While Atalanta and Longboard rate almost identically, they are orphaned on handicap between the Division 1 'big sleds' and Division 2 'racer cruisers'. Because of the handicap spread between the two divisions, Longboard and Atalanta started together today and the match race is on. It's an intriguing story of 'old school' vs 'new school', state of the art technology vs legendary thoroughbred, diminutive light weight flyer vs proven maxi yacht.
Both yachts have contributed to the legacy of this race, a legacy celebrated this summer on the 50th Anniversary of the Vic Maui Yacht Race.
UPDATE: at Roll Call on Tuesday, they were neck and neck in Juan de Fuca Strait just past Sheringham Point beating in 15 kts of wind.