Longboard Roars Across the Finishing Line to Claim Line Honours
by Race Committee, July 18th, 2014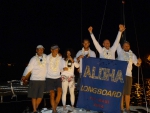 With winds building as she got closer to Maui, Longboard got up and surfed the waves one more time to rip through Pailolo Channel and finish at the Aston Kaanapali Shores an hour before midnight at 22:56-Jul 17. Peter Salusbury and crew can claim Line Honours for Vic-Maui 2014 as the first boat to finish.
This race was an adventure 30 years in the making. Peter, and crew mates Stewart Jones and Jeremy Hill did the race together a long time ago and returned for a reprise. They were joined for this race by Peter's son Jim and Stewart's son Simon, along with the always welcome Gina Borza.
Conditions in this year's 24th running of Vic-Maui perfected suited Longboard, a custom built Riptide 35 designed by Paul Bieker. When the wind blew, it blew hard - the design allowed the light boat to break the laws of physics and jump out of the water on a high speed plane. When the wind did not blow, the ultra light weight allowed forward progress in the lightest of zephyrs.
Peter reported that the boat performed perfectly. She was a pleasure to sail and a thrill to experience flying down the waves at speeds approaching 20 kts. Nothing broke, no sails ripped, no real adventures. That is; if stopping the boat a couple of times to dive underneath and clear floating debris off the keel is not an adventure. Or ripping through the open ocean with hardly any of the boat touching the water is not an adventure.
Family and well-wishers gave Longboard and crew a hearty Aloha as they glided into the Lahaina Pier, and the crew were treated to very welcome Mai Tais and real food by the LYC Greeting Party. In the wee hours, a very tired crew headed for some bunk time on a stable platform for the first time in 12 days.