Daily Report - July 12 - The High, the Hight, the White High
by Race Committee, July 12th, 2014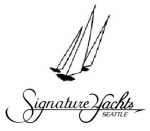 Like Captain Ahab seeking the white whale, the Vic-Maui fleet is seeking a way out of the Pacific High that has set up over the fleet.
The boats that have wind (String Theory, Turicum, Turnagain, Passepartout, and Alegria are unfortunately on the west side of the high and seeing head winds, not the usual Vic-Maui fare. This is unknown territory for most navigators and it will be interesting to see how this works out.
Boats in the middle are seeing a variety of light, frustrating conditions. All are trying to get below the high – somehow.
And JAM, Longboard and New Haven have boat speed again and are working their way south of the high trying to get to the slightly stronger trade winds blowing about 200 miles to the south. But how long will this take?
Race Committee went Laser sailing today. Apparently there was more wind on my course than out in the Pacific. Go Figure.
For what it is worth, the Yellowbrick tracker program is predicting String Theory to finish first on July 21 and correct out 2 hours ahead of Longboard, who is predicted to finish on July 20.
But this will all change. But how?
Featured Sponsor - Signature Yachts
You're Welcome Aboard at Signature Yachts
When you're in the market to buy or sell a sailing yacht in the Pacific Northwest, we would appreciate the opportunity to serve you. Although we've sold nearly a thousand boats so far, what's far more important is the quality of the buying or selling experience you have as our customer.

Our multiple Beneteau Platinum and Island Packet Yachts Golden Wrench Awards will lend you confidence that your purchase, delivery and after sales service experience with us will be a great one! We've enjoyed receiving awards from leading yacht builders in the world recognizing us for superior customer service and these awards are a direct result of customer feedback about your buying experience.
Website: http://www.signature-yachts.com/