The Fleet Is In! Big Ben Finishes
by Richard Ballantyne, July 25th, 2012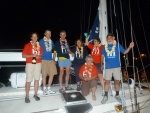 The 2012 Vic Maui Fleet have all arrived safely in Lahaina.
Jim McLauchlan's Big Ben, a Beneteau Oceanis 50 skippered by Tony Roberts and hailing out of the Oak Bay Sailing Association in Victoria, arrived tonight with an elapsed time of 20 days and 10 hours.
Right at the start, Big Ben had to deal with adversity when Jim McLauchlan, the owner and skipper, had medical issues and remained behind on doctor's orders. Tony Roberts took over as Skipper and the crew pushed onward to complete their adventure, all part of building knowledge of open-ocean sailing in preparation for future voyages. Despite difficulties with a depleted sail inventory, electric systems, and steering. the team perservered and received a warm welcome in Lahaina; all talking of the fun and adventure - exactly the motto of the race - Challenge, Adventure, Teamwork.