Here, Here, The Gang's All Here
by Race Committee, July 16th, 2018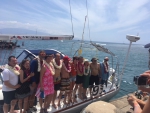 The last 2 boats from Vic-Maui 2018 finished early this afternoon and are now enjoying their welcome party at the Pioneer Inn. Victor Mushkatin's Serenite, the surviving boat from Cruising Class crossed the finish line at 12:31pm. Our now famous turtle rescuer, Doug Frazer and Oxomoxo finished at 1:43 pm.
With enough adventures to last a lifetime, both boats have stories of challenges and travails to go along with the fun and great sailing of the last few days. While Serenite has reported failure of the primary navigation system, clearly seeing the mountains of Maui was enough to get them to the finish. And Oxomoxo spend the last few days in winds strong enough to push the old-school design Swan 39 to its full speed potential - even with the 10 lb. mess of net rescued from around the turtles neck weighing down the bow.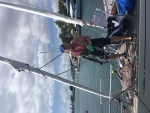 The happy smiles on the faces of both crews seeing girlfriends, wives (not necessarily together), family and friends after 2400 miles was a great sight.
And so that wraps up the on-the-water part of Vic-Maui 2018. But there is still plenty of action between now and the Awards Banquet on Saturday Night on the Ocean Lawn at the Sheraton Maui in Kaanapali. Boats will need repairs, re-fitting, re-provisioning and generally making ready for the return voyage home to B.C. and Pacific Northwest.
And two of the boats are carrying on from Maui for further adventures. John Murkowski and Joy Ride are going to follow in the wake of famous Vic-Maui boats Gabrielle III, Greybeard, and Kinetic and head for Australia to compete in the world famous Sydney-Hobart race which starts on Dec 26, 2018. Clayton Craigie has used Vic-Maui as the first step in a cross-Pacific adventure to deliver his new Beneteau First 40 to Thailand where he has recently retired to.