Day 11 - How Do You Spell Relief
by Race Committee, July 11th, 2018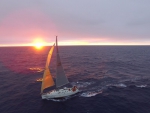 We are now eleven days into the 2018 version of Vic-Maui and finally the fleet is getting into the promised trade winds. Not strong, but consistent enough to get everyone sailing with spin up and pointing towards Maui. The boats are reporting wind over the port stern quarter somewhere between 10 and 19 knots.
Race Committee has beaten the fleet to Maui and took Roll Call sitting on the beach at Kaanapali – the paradise that awaits the sailors in next few days. And the next few days will be fun as the fleet is very much bunched together and the race is still too close to call.
At Roll Call, Firefly is 614 miles to the finish, with Joy Ride a consistent 20 miles behind. Followed by Salient +107, Kraken +149, Turnagain + 167, Anjo +232, Oxomoxo +275 and Serenite (in Cruising Class) at +268 miles.
Gemini's Dream is back in home waters approaching the entrance to the Strait of Juan de Fuca and will be home on Thursday.
Right at Roll Call yesterday, Oxomoxo reported diverting to free a sea turtle struggling to swim wrapped in fishing net and plastic. It was an excellent gesture for sailors concerned about the amount of plastic they see on the way and certainly worthy of the social media attention the story is getting. We are not sure whether it is Oxomoxo or the lucky turtle that has accumulated 42,000 friends in last day.
As mentioned above, the race is too close to call. The 20-mile lead for Line Honours Firefly enjoys over Joy Ride is nothing with miles of ocean racing left. And the present YB estimated time to finish also shows a dead heat between Salient and Joy Ride for the overall corrected first place. But this is a highly variable figure and there will be more than a few wind and tactical surprises on the last few days left leaving Kraken and Turnagain still having something to say about who gets on the podium.
TODAY'S FEATURED SPONSOR:
Pacific Yachting
For 40 years, Pacific Yachting has been the voice of boating in British Columbia. Good luck to all Vic-Maui participants!
Website: http://www.pacificyachting.com/