Line Honors To Terremoto!
by Mark Gray, July 15th, 2010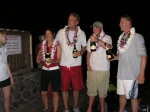 Congratulations to Terremoto! Scott Burbank's Riptide 35 Terremoto! crossed the finish line at 22:30:49 HST on July 14 to earn Vic-Maui 2010 line honors with an elapsed time of 11d:15h:20m:49s. The fastest elapsed time since 2002. More to follow ...