Maui-Vic: The Delivery Home
by Richard Ballantyne, July 30th, 2012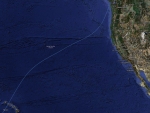 The day after all the trophies were awarded saw the boats, skippers and crews starting to disperse to the winds. On Sunday, Family Affair started for Kauai for their jumping off point on trip back to Everett, Incantation departed for Honolulu for reprovisioning and to pick up delivery crew, and Turicum started straight back along the rhumb line. On Monday, Double Take and Red Sheilla expected to leave early, with the rest of the fleet following over the next couple of days.
The biggest adventure will be Radiance. Mark Ward and Laurence Blakely are heading for Palmyra Atoll as their next stop on a 2 year tour of the Pacific.
Five of the boats will be carrying Yellowbrick trackers on the delivery voyage. Turicum, Family Affair, Double Take, Kinetic and Big Ben can be tracked at http://yb.tl/vicmaui2012return.