Anne Bonny Finishes!
by Richard Ballantyne, July 22nd, 2012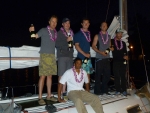 Fraser Hall and his youngish crew aboard Anne Bonny, a Beneteau First 40.7 out of the Royal Vancouver Yacht Club, finished the race on a beautiful, but breathless night. There were some nervous moments on the part of the finish line spotters as Anne Bonny seem to be caught in the same windless hole that swallowed Turicum for a few hours the afternoon before, but the current managed to push them towards the line and a finish party in Lahaina just after Family Affair left the dock.
Julie Leis' LYC volunteer greeters were fully up to the challenge of such an early morning finish, hard on the heels of such a late night finish. This was especially welcome as Fraser and his crew seemed over-eager to get off the boat and roar into some fresh food. It seems that Anne Bonny is been set up more for 'around the cans' racing and relied on canned food and slightly ripe tank water for sustenance on the voyage and was not reporting the same degree of galley delights as some of the other boats.
A common theme for some of the more recent finishers is damage sustained to their large spinnakers early in the race which then put them at a disadvantage later in the race. A spare spinnaker or two among the ocean debris would have been most welcome.