Crew Bank
We are refreshing the Crew Bank for 2014. Please check back at a later date.
Thank you for your interest.
Yacht Tracker
Follow the race online:

...or download the App for your iPad or iPhone
Newsletter Sign-Up
Please enter your email address if you wish to be included on the Vic-Maui Shackles & Cotterpins newsletter email distribution list.
Sponsors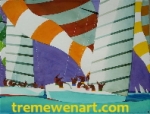 Featured Yacht Profile
Double Take

Type
: J-145
Skipper
: Tom Huseby
Port
: Seattle, WA
Blog:
1 articles posted
Double Take sails for the Seattle Yacht Club and is Skippered by Tom Huseby. DT is Tom's second J/145, the first of which, Jeito, sailed in the 2002 Vic-Maui. DT is crewed by four returning Jeito vets, Tom, Brad Baker, Tim Larson , and John Austin. Brad is the navigator and is competing in his ninth Vic-Maui. Joining the four vets this year are Ryan Helling, on his second Vic-Maui and three race newcomers; Jay Sharkey, ocean racer extraordinaire, Tom's youngest son, Max; and Tom's nephew, Nat Smith. The DT crew is looking forward to joining the other competitors and is appreciative of all the effort put into the event by race organizers, family, and friends that makes this iconic race possible.
As Tom so often says, "this time let's only make new mistakes."
[Read More Yacht Profiles]
Weather