Crew Login
Please enter a valid username and password. Thank you.
Tweets by @vicmaui
Shackles & Cotterpins e-Newsletter
Featured Sponsor
Featured Yacht Profile
Ion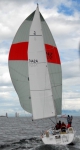 Type
: Beneteau 43
Skipper
: Bill Jones
Port
: Nanaimo, BC, Canada
Blog:
1 articles posted
Ion, a Beneteau 43 from Nanaimo, BC, is ready to take on the challenge of racing to Maui and sailing back safely in 2016. The skipper is a veteran of five Van Isle 360's and several Swiftsures and Southern Straits races. Score three Oregon Offshore adventures as well, and a Vic-Maui seems the obvious "next step."
While only one member of the crew has done the Vic-Maui race before, the team has been practicing hard and Ion's preparation for the event has been evolving over the past couple years.
[Read More Yacht Profiles]
Weather