Preliminary Start Dates, NoR Amendment, Ratings & Measurement, Alumni Reunion Tickets, Preferred Accommodations, Archives, Qualifying Races, Featured Sponsor
by Vic-Maui International Yacht Race, March 2nd, 2014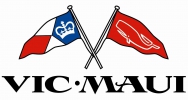 Shackles & Cotterpins
The Vic-Maui Newsletter
Attention Sailors
Notice to Competitors - Preliminary Start Dates
Preliminary 2014 start dates have been set. Pre-start festivities in Victoria will commence on Canada Day, July 1st. The first group of boats will start on July 3rd, and the second group of boats will start on July 5th. These dates are preliminary and are subject to change.
Full details are online at Notice to Competitors 1 and at Race Documents.
Amendment to the Notice of Race - Stability, Rating, Communications
An amendment to the Notice of Race has been published. Changes affect stability, rating and communications requirements.
Full details are online at NoR Amendment 1 and at Race Documents.
Ratings and Measurement
An extensive information update covering frequently asked questions on Ratings and Measurement has been published at http://www.vicmaui.org/ratings-measurement. This information includes how to obtain an ORR rating, what's involved in ORR measurement, the 2014 timeline, and a history of ratings systems used by Vic-Maui from 1965 to 2014.
Alumni Reunion - Tickets now on Sale!
Who & What:
Everyone associated with Vic-Maui from 1965 to 2014
All Years • All Boats • All Sailors
Mai Tai's • Pupu's • Prizes
When & Where:
Thursday April 10, 7:00 pm, Royal Vancouver Yacht Club
Why:
"Vic-Maui - The Adventure of a Lifetime • A Lifetime of Adventure"
Door Prizes:
Five Nights in a Condo at the Outrigger Napili Shores on Maui • And More!
For More Information and Online Ticket Purchase:
Please visit www.vicmaui.org/alumni
Accommodations for Victoria-BC and Lahaina-Maui
July is a busy time of year in Victoria and on Maui. Flights and accommodations are starting to book up, so if you haven't already made your travel arrangements, now is the time! See our Victoria-BC information page and Lahaina-Maui information page for preferred accommodations and other Start Venue and Finish Venue information.
Vic-Maui Archives - another update - race results and trophies awarded 1965-2012

:
Further updates to the archives have been published, including race results and trophies awarded from 1965 through 2012. Multi-year summaries are posted at http://www.vicmaui.org/past-winners-results, and results for individual races are posted at http://www.vicmaui.org/archives-by-year. There is an extensive collection of material, dating as far back as 1965, including archival photographs of more than one hundred Vic-Maui boats at http://www.vicmaui.org/archives. We welcome submissions to the archives - please contact archives@vicmaui.org if you have material to donate.
Vic-Maui Qualifying Races - registration is now open

:
Registration is now open for all three Vic-Maui Qualifying Races that are running in 2014: Southern Straits, Oregon Offshore and Swiftsure.
Vic-Maui Qualifying Races are:
Featured Sponsor - CSR Marine
Puget Sound's Favorite Boatyards. Two locations in the Seattle area. Collision damage, fiberglass repair, gelcoat and paint services. In-house mechanical and rigging, bottom paint. Haulouts to 80 feet.
At CSR Marine, we're acutely aware of the unique relationship between boat owners and boatyard. After all, you have to trust us to take precious care of a major investment, and in many cases, it's much, much more than that. CSR has a hard-earned reputation for quality, timely repairs, competitive pricing and integrity.
Website: http://csrmarine.com/
See more Vic-Maui sponsors at the bottom of this page.
Vic-Maui is on Facebook!
Please visit us and "like" us at https://www.facebook.com/pages/Vic-Maui-International-Yacht-Race/315028561904036
* * * * * * * * * *
Shackles & Cotterpins welcomes your feedback, comments and suggestions. You can contact us at shackles.editor@vicmaui.org. You can find a list of all other Vic-Maui contacts on our website. We look forward to hearing from you. Click here to unsubscribe.
* * * * * * * * * *
Victoria to Maui International Yacht Race
The Victoria to Maui International Yacht Race is hosted by the Royal Vancouver Yacht Club and the Lahaina Yacht Club. First contested in 1965 and sailed every second year since 1968, Vic-Maui is the pinnacle of Pacific Northwest ocean racing. Vic-Maui starts in July off Victoria, British Columbia and finishes near Lahaina, Maui, a distance of approximately 2308 nautical miles.
Vic-Maui challenges navigators to demonstrate their weather routing and navigational skills. Success depends on the navigator's skill in predicting where the Pacific High pressure zone and trade winds will be, nearly a week into the future.
The adventure includes sailing around the Pacific High and surfing downwind in the trades. The days pass quickly with the fleet surrounded by dolphins and albatross, spectacular sunrises, sunsets and brilliant starlit nights.
Teamwork gets the boats to the finish line near Lahaina, where each arriving boat is greeted with an outstanding Hawaiian welcoming party. Family and friends meet the racers to celebrate the accomplishment with hugs, leis and mai-tais. Many crew stay to spend more time enjoying Maui with their families before heading home.
Visit www.vicmaui.org for Challenge - Adventure - Teamwork!
* * * * * * * * * *
Hosts
Royal Vancouver Yacht Club • Lahaina Yacht Club
Gold
Greater Victoria Harbour Authority • Navis Marine Insurance • Pacific Yachting • Westerly Yachts
Silver
Azaris Studios • CSR Marine • First Yacht Services • North Sails Vancouver • Signature Yachts
Supporters
Tremewen Art
Victoria Preferred Accommodations
Harbour Towers Hotel • Hotel Grand Pacific • Sandman • Strathcona Hotel
Aston Kaanapali Shores • Outrigger Hotels and Resorts • Pioneer Inn • Sheraton Maui