Race entry deadline, Vic-Maui Qualifying Races, Safety at Sea classes, Preferred Accommodations
by Vic-Maui International Yacht Race, January 3rd, 2014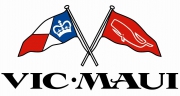 Shackles & Cotterpins The Vic-Maui Newsletter
Attention Sailors:
2014 Vic-Maui Race Entry Deadline
The current entries for the 2014 Vic-Maui International Yacht Race are online at http://www.vicmaui.org/teams. To date there are fourteen entries, including ten Canadian and four US boats ranging in length from thirty-five to fifty-three feet.
The final deadline for entering the 2014 Vic-Maui race is February 3, 2014. Official race documents are online at http://www.vicmaui.org/documents. Race entries are accepted via the streamlined online entry system at http://www.vicmaui.org/race-entry.
Featured Sponsor
Pacific Yachting has been serving the recreational boating community for over 43 years. Power or sail, Pacific Yachting helps you get more from your time on the water with high-quality and up to date content on a variety of topics. Each month, read the latest information on cruising destinations, news issues, local attractions, upcoming events, do it yourself projects, fishing spots and more. Plus every issue brings boat reviews, boat care and the latest in new gear and technology. From the best anchorages to the best pub Pacific Yachting knows the Pacific Northwest coast.

For more information, visit: http://www.pacificyachting.com/
Vic-Maui Qualifying Races
Selected overnight distance races are designated as "Vic-Maui Qualifying Races". Potential Vic-Maui crew members are encouraged to participate in one or more of the Vic-Maui Qualifying Races as part of their personal preparation for the pinnacle of Pacific Northwest ocean racing, the Vic-Maui race. Individual crew experience with overnight sailing is important to skippers when selecting crew, and combined crew experience with overnight sailing is important to the race committee when considering Vic-Maui entries.
Boats sailing in the 2014 Vic-Maui fleet are encouraged to participate in Vic-Maui Qualifying Races. Some of these races will be scoring Vic-Maui boats as a subfleet, in addition to their usual class/division scoring.
Southern Straits Yacht Race April 18-20, 2014
http://www.southernstraits.ca/
Oregon Offshore International Yacht Race May 8-11, 2014
http://www.oregonoffshore.org/
Swiftsure International Yacht Race May 24-26, 2014
http://www.swiftsure.org/
Upcoming Safety at Sea classes
Sailing Foundation (Seattle) - February 22-23, 2014 for more information, visit http://www.thesailingfoundation.org/
BC Sailing (Vancouver) - January 24-25, 2014 BC Sailing (West Vancouver) - April 4-5, 2014 for more information, visit http://www.vicmaui.org/bc-sailing-safety-at-sea
Preferred Accommodations - Updated Information
More accommodations properties are now offering special Vic-Maui rates in Victoria and on Maui. These Preferred Accommodations are supporting Vic-Maui, and we encourage Vic-Maui participants to consider booking with these properties.
Victoria-BC: http://www.vicmaui.org/victoria-bc Lahaina-Maui: http://www.vicmaui.org/lahaina-maui
Shackles & Cotterpins welcomes your feedback, comments and suggestions. You can contact us at shackles.editor@vicmaui.org. You can find a list of all other Vic-Maui contacts on our website. We look forward to hearing from you. Click here to unsubscribe.
* * * * * * * * * *
The Victoria to Maui International Yacht Race, first contested in 1968, is the pinnacle of Pacific Northwest ocean racing. Vic-Maui runs every second year, starting in June or July off Victoria, British Columbia and finishing near Lahaina, Maui, a distance of approximately 2308 nautical miles. Vic-Maui challenges navigators to demonstrate their weather routing and navigational skills. Success depends on the navigator's skill in predicting where the Pacific High pressure zone and trade winds will be, nearly a week into the future. The adventure includes sailing around the Pacific High and surfing downwind in the trades. The days pass quickly with the fleet surrounded by dolphins and albatross, spectacular sunrises, sunsets and brilliant starlit nights. Teamwork gets the boats to the finish line near Lahaina, where each arriving boat is greeted with an outstanding Hawaiian welcoming party. Family and friends meet the racers to celebrate the accomplishment with hugs, leis and mai-tais. Many crew stay to spend more time enjoying Maui with their families before heading home.
Visit www.vicmaui.org for Challenge - Adventure - Teamwork!