Online Registration is Now Open!
by Vic-Maui International Yacht Race, September 8th, 2013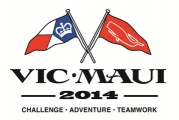 Shackles & Cotterpins
The Vic-Maui Newsletter
September 8, 2013
Aloha Sailors:
New Information:
Online Registration is Now Open!
Vic-Maui has implemented an online registration system.
The race entry form has been streamlined. The early entry deadline of September 30, 2013 is fast approaching, and boats that register by this date qualify for a $200 race entry fee discount and other benefits.
Click here to Register Now for Vic-Maui 2014
(this link is for skippers who are entering their boat in the race)
The BC Sailing Offshore Personal Survival Course (Safety at Sea - Sea Survival) is Sail Canada - ISAF Approved and is for experienced sailors who are participating in distance and offshore races and passages.
Click here to Register Now for BC Sailing Offshore Personal Survival Course
(class 16, October 4-5, 2013)
Notice of Race - Appendix B - Safety Checklist is Now Available
Appendix B brings together the safety requirements of the ISAF Offshore Special Regulations, the Vic-Maui Notice of Race and NoR Appendix A in one convenient checklist format.
Click here for the Notice of Race Appendix B Safety Checklist
Attention adventurous Seattle-area sailors!
A Vic-Maui Information Meeting will be held on Thursday, September 26, 2013 starting at 7:00 pm at the Seattle Yacht Club.
This free event is for skippers and crew who are considering doing the Vic-Maui race. Attendance is open to sailors from all clubs. Come to hear about the spills and thrills on the way to putting a tick mark high on the bucket list!
Vic-Maui veterans Tom Huseby (J-145 "Double Take"), Brad Baker (Nine Vic-Maui races!), David Sutcliffe (Beneteau First 47.7 "Kinetic") and Frank Shriver (LYC Race Trustee) will be there to field questions.
Click here to RSVP and get details for the Seattle area Information Meeting.
Other Information:
Fall-Winter Preparation Events Schedule:
Prearation events have been scheduled for the Fall-Winter period. Upcoming events include Safety at Sea, Preparation Seminar, Offshore Weather and Marine First Aid.
Click here for the Fall-Winter Competitor Preparation Events Schedule
Key Race Dates:
Race Entry Deadline - February 3, 2014
Starts – July 3-7, 2014
Finish time limit – July 24, 2014 at 2330 HST
Awards banquet – July 26, 2014
The website is at www.vicmaui.org.
Shackles & Cotterpins welcomes your feedback, comments and suggestions. You can contact us at shackles.editor@vicmaui.org. You can find a list of all other Vic-Maui contacts on our website. We look forward to hearing from you. Click here to unsubscribe.
* * * * * * * * * *
The Victoria to Maui International Yacht Race, first contested in 1968, is the pinnacle of Pacific Northwest ocean racing. The race is hosted by the Royal Vancouver Yacht Club and the Lahaina Yacht Club. Vic-Maui runs every second year, starting in July off Victoria, British Columbia and finishing near Lahaina, Maui, a distance of approximately 2308 nautical miles. Vic-Maui challenges navigators to demonstrate their weather routing and navigational skills. Success depends on the navigator's skill in predicting where the Pacific High pressure zone and trade winds will be, nearly a week into the future. The adventure includes sailing around the Pacific High and surfing downwind in the trades. The days pass quickly with the fleet surrounded by dolphins and albatross, spectacular sunrises, sunsets and brilliant starlit nights. Teamwork gets the boats to the finish line near Lahaina, where each arriving boat is greeted with an outstanding Hawaiian welcoming party. Family and friends meet the racers to celebrate the accomplishment with hugs, leis and mai-tais. Many crew stay to spend more time enjoying Maui with their families before heading home.
Visit www.vicmaui.org for
Challenge - Adventure - Teamwork!