Vic-Maui teams - mark your calendars!
by Vic-Maui International Yacht Race, August 24th, 2013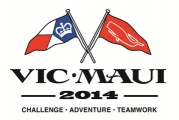 Shackles & Cotterpins
The Vic-Maui Newsletter
August 24, 2013
Attention Sailors:
Vic-Maui teams - mark your calendars!
Preparations are well underway for Vic-Maui 2014. Teams preparing for Vic-Maui will want to plan for these dates:
September 30, 2013 Early Entry Deadline
October 4-5, 2013 BC Sailing Safety at Sea class
November 2, 2013 Vic-Maui Preparation Seminar
November 3-4, 2013 Vic-Maui Offshore Weather class
November 15-16, 2013 BC Sailing Safety at Sea class
February 1-2, 2014 Marine First Aid class
February 3, 2014 Race Entry Deadline
February 22-23, 2014 Sailing Foundation Safety at Sea seminar
Registration information for each of these events will be published as it becomes available. Teams that meet the Early Entry Deadline will receive preferred registration access to some Vic-Maui events.
Celestial Navigation: although not a requirement for Vic-Maui, sailors interested in celestial navigation are advised that Vancouver Maritime Courses is offering a celestial navigation course commencing on November 5, 2013. See Vancouver Maritime Courses for more information.
* * * * * * * * * *
The Victoria to Maui International Yacht Race, first contested in 1968, is the pinnacle of Pacific Northwest ocean racing. The race is hosted by the Royal Vancouver Yacht Club and the Lahaina Yacht Club.
Vic-Maui runs every second July, starting off Victoria, British Columbia and finishing near Lahaina, Maui, a distance of approximately 2308 nautical miles. Vic-Maui challenges navigators to demonstrate their weather routing and navigational skills. Success depends on the navigator's skill in predicting where the Pacific High pressure zone and trade winds will be, nearly a week into the future. The adventure includes sailing around the Pacific High and surfing downwind in the trades. The days pass quickly with the fleet surrounded by dolphins and albatross, spectacular sunrises, sunsets and brilliant starlit nights. Teamwork gets the boats to the finish line near Lahaina, where each arriving boat is greeted with an outstanding Hawaiian welcoming party. Family and friends meet the racers to celebrate the accomplishment with hugs, leis and mai-tais. Many crew stay to spend more time enjoying Maui with their families before heading home.
Visit www.vicmaui.org for
Challenge - Adventure - Teamwork!
Shackles & Cotterpins welcomes your feedback, comments and suggestions. You can contact us at shackles.editor@vicmaui.org. You can find Vic-Maui contacts on our website at www.vicmaui.org. We look forward to hearing from you.