Roll Call August 5 for Maui Vic 2022 Boats Sailing for Home
by Charlotte Gann & Race Committee, August 5th, 2022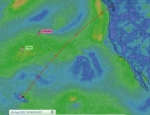 The fleet of Vic-Maui boats returning to the Pacific Northwest continue to progress toward their destinations relatively well.
Those who left Hawaiian ports in the last week of July have encountered boisterous and confused seas with winds consistently above 20 knots and on the nose, gusting to above 30. Recently, the romping winds are starting to ease, and with it the comfort aboard the boats increase.
For boats that left since August 4th, the sea and wind conditions couldn't be more different. 10 knots on the beam, spinnaker sailing with gin and tonics spilling nary a drop, and you can almost hear the tinkle of their ice (that'd be Planet Express with their solar icemaker). Millennium Seagull will be departing on August 6th and will likely enjoy conditions similar to Planet Express.
Two boats that began the homeward sail decided to turn back to Hawaii in an abundance of caution. They will assess and affect repairs before again setting out.
Morale aboard Phoenix is high though they're still sailing close-hauled. Red Sheilla – well, Jimmy doesn't beat – they're motoring across the soft spot in the Pacific High. Amun-Ra reports smoother seas now. Flow seems to be having a similar sail to Phoenix – lumpy, as does Outbreak who look forward to getting close enough to the centre of the high to motor over smoother seas.
YB Tracker Link: https://cf.yb.tl/vicmauireturn22
Roll Call for Maui Vic Boats on August 5
DATE

22-08-05

Latitude

Longitude

TWS

TWD

Atm Press

Deg-Min

Deg-Min

kts

Deg

millibar

Phoenix

35-55

157-21

18

55

1024

Red Sheilla

42-21

160-44

5

110

1031

Xiomara

40-29

151-01

17

50

1031

Amun-Ra

41-09

153-52

15

82

1028

Millennium Seagull

departing Oahu tomorrow

Planet Express

25-00

158-45

8

99

1018

Flow

35-40

156-17

New Haven

In Honolulu

Annie M

In Honolulu

Outbreak

37-42

157-11

18

100

1027