YB Tracking has created a combined 2022 Pac Cup - Vic Maui tracker page
by Charlotte Gann, July 14th, 2022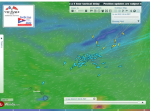 How fantastic is this!?

YB Tracking received so many requests that theyve done it - there's a new merged track for the Pac Cup and Vic-Maui together. Here's the link: http://yb.tl/Pac-Vic22

If you're Android, open the app and search for 'Pacific Cup - Vic Maui'

Pyewacket is about to take line honors. Refresh is every 4 hours.