Day 7 - Warmer and Drier, with a faint whiff of Tuna and Gray Whales
by Race Committee, July 7th, 2018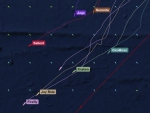 Day 7 Roll Call shows the fleet still fairly tightly clustered, with one notable exception.
Geminis Dream has experienced mainsail furling equipment damage, has retired from the race, and has altered course. All onboard are reported safe and well. Race Committee will stay in close communications with Geminis Dream until they reach their next port.
Pop quiz question:
What's the difference between True Wind Angle and (TWA) and True Wind Direction (TWD)?
Firefly continues to lead the fleet South, with Joy Ride hot on her heels. The next wave of boats includes three Vic-Maui veterans, Turnagain, Salient, and Kraken, followed by OxoMoxo. A relatively short distance back, Anjo and Serenite are soaking down onto Salient's line, and these three boats are farthest West. The leaderboard is in a state of flux.
This afternoon, the fleet looks to be sailing on starboard tack with W-NW winds in the 7-13 knot range. Barometric pressures reportedly range from 1022 – 1025, with some dubious outlier readings from boats whose barometer calibrations may have fallen off the pre-start job list. All the boats appear to be navigating a fine line to avoid light air on their left (to the East) and to stay in pressure either ahead or to their right, on the slope of the High (to the West).
Conditions onboard the boats are reported as warmer and drier, with a more-than-faint whiff of tuna on some boats and gray whales near other boats. It looks like tomorrow will be the half way mark for a number of boats; traditionally there are some wild and wacky celebrations which are sometimes akin to a sailor's traditional equatorial crossing. With the magic of modern wireless communications, photographs, including drone images, and stories have been coming ashore from the boats and appearing on blogs and social media including the Vic-Maui Facebook group at www.facebook.com/vmiyr/
Pop quiz answer:
True Wind Angle (TWA) is the angle the true wind is coming from, relative to the heading or bow of the boat; it can be any number between 0 and 180 degrees. True Wind Direction (TWD) is the compass direction that the wind is coming from, regardless of which way the boat happens to be pointing; it can be any number between 0 and 359 degrees. You're welcome to quiz the Vic-Maui crews on this at their arrival parties on Maui, preferably after their first refreshment!
Featured Sponsor:
Harken, Inc. is a leading manufacturer and marketer of quality sailboat hardware and accessories.
Harken gear has dominated such events as the America's Cup and Olympics. Harken blocks, travelers, furling systems and winches can be found aboard everything from the smallest dinghies to the largest megayachts and cruisers.
Headquartered in Pewaukee, Wisconsin, Harken manufactures in the USA and Italy. Its network includes offices in 48 countries, with group offices located in Australia, France, Italy, New Zealand, Poland, Sweden, the United Kingdom, and the United States (Rhode Island, California, and Florida).
Harken website: http://www.harken.com/
Harken is distributed in Canada by Western Marine Company, www.westernmarine.com. Harken Canada website: http://www.harken.ca/